Clayton, one of America's largest home builders, is creating opportunities for homebuyers of the Baby Boomer generation seeking modern, energy efficient housing without sacrificing affordability.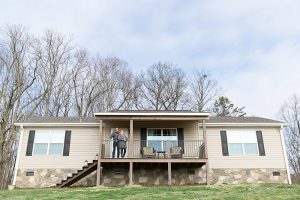 In January 2018, according to the U.S. Census Bureau, the average price of a new single-family, site-built home with land in America was $382,700 – up 6.5 percent from January 2017. As the cost of housing rises year over year, families all over the country face a limited supply of affordable options.
"We looked at site-built homes, but for the value and the money and the quality, we were going to have to do without a lot of things," said new homeowner Diane Wood. "That's what did it for us. We got a lot of quality and value for our money."
With an average price of around  $68,100 without land as of October 2017, manufactured homes offer a promising solution to the affordable housing crisis – and people are starting to take notice. Clayton Built™ manufactured and modular homes are beautifully designed with quality, brand-name materials at an affordable price.
After their retirement, Diane and Harold Wood were looking to build a 'forever home' on their beautiful farm property owned by their family for generations. According to the Home Buyer and Seller Generational Report  2017, "buyers 62 to 70 are often moving due to retirement, desire to be closer to friends and family and desire for a smaller home." The report also states that 35 percent of buyers in the same age range purchased previously owned homes for better overall value. Manufactured and modular homes are offered with custom floorplans and upgradeable amenities, including stainless steel appliances and granite countertops.
Initially the Woods were considering a traditional, site-built home for their family property, but found the cost of construction limited their options. That's when they visited a Clayton Homes store and discovered The Cameron, a 1,512 sq. ft. Clayton Built® home with 3 bedrooms and 2 bathrooms.  The Woods' home includes a one-story open floorplan, with a beautiful kitchen, center island and recessed ceiling that is perfect for large meals and entertaining. They even chose to upgrade to the Clayton Energy Smart® option, which includes high-efficiency insulation, low-emissive windows, a programmable thermostat and several other features that will help reduce utility costs in the years to come.
The home was delivered by truck to their property, called Wood Ridge, and affixed to a permanent foundation. The Wood family added a garage to the house and a front porch where they sit together every evening.  The Woods invited Clayton to visit their new home and talk about the home buying journey. Clayton has released a video documenting their story.
"This is where we're happy," says Diane. "We're porch people, and we just loved looking out at the beautiful mountains and the view."
Stop by Twin City Housing in Lufkin TX to see a Clayton manufactured home Today!
Also, visit www.claytonhomes.com for more information on how to find the home of your dreams or to take a virtual tour of The Cameron.
About Clayton:
Founded in 1956, Clayton is committed to opening doors to a better life and building happyness through homeownership. As a diverse builder committed to quality and durability, Clayton offers traditional site-built homes, modular homes, manufactured housing, tiny homes, college dormitories, military barracks and apartments. In 2017, Clayton built more than 48,000 homes. Clayton Homes is a Berkshire Hathaway company.
Visit the full multimedia news release site by visiting https://www.multivu.com/players/English/8246151-clayton-homes-boomers-affordable-manufactured-solutions/